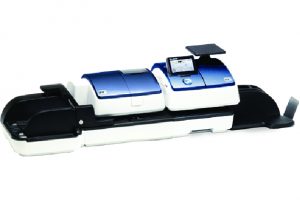 Please call or email with any questions on our postage meter rentals, products, or services. We are local and we would be glad to schedule a free demonstration in Milwaukee, Waukesha, and many other Southeastern WI areas.
*View all of our USPS® IMI compliant postage meter systems here*
The USPS has stated that non-IMI compliant postage meters will be decertified on June 30, 2024, and must be withdrawn from service by December 31, 2024. All of our newest postage meters, including the PostBase Vision series, meet these requirements. If you are unsure if your current meter system meets the new requirements please contact us and we would be glad to help!
PostBase Vision
Our newest USPS IMI-compliant postage meter system. The PostBase Vision series is available in semi-automatic and automatic configurations. Please call or email for a free demonstration!
Download a PostBase Vision Semi-Automatic brochure here
Download a PostBase Vision Automatic brochure here
PostBase Insight is an USPS IMI-compliant mailing system. Several configurations to choose from.
********************************************************************************************************************
PostBase Classic No longer available. Please see PostBase Vision for the newest in IMI-compliant metering technology.
centormail™ No longer available. Please see PostBase Vision for the newest in IMI-compliant metering technology
Please contact us at info@competitivemailing.com or at 414-462-1140