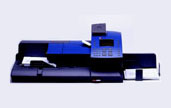 Click on the model number listed below for more detail or to view or download a brochure.
Please call or email with any questions on our products or services. Ask about a free demonstration!
PostBase
Our newest postage meter model, PostBase, is now available. For small and mid-size businesses, PostBase offers extreme flexibility and options to adapt to most any company's mailing needs. Please call or email for a free demonstration!
mymail™ MAX
This digital printing meter is perfect for small volume mailers that want the professional look and the convenience of metered mail. mymail™ MAX utilizes FP's latest mailcredit technology to allow postage downloads using today's high-speed digital connections while having the flexibility and choice of using traditional analog phone lines as well.
The centormail™ is perfect for mid to high-range volume. This digital mailing system offers an array of unique features, including a vertical feeder that processes true mixed mail without presorting. This digital system is SBP and IBIP-compliant, has dynamic weighing, an integrated scale, intuitive operating settings, HP Inkjet Technology, and automatic secure access to postage downloads.
optimail™ 30 NO LONGER AVAILABLE
Meter your mail with this advanced mailing system. The Optimail 30 Digital system offers an integrated 10 pound capacity scale and several accounting features usually found in higher priced mailing systems. Great for small businesses and branch offices.
ultimail™ 65 & 95 NO LONGER AVAILABLE
Our Ultimail series offers the newest in digital IBIP technology. We offer both semi-automatic and automatic feeding models with sealers and interfaced 10 pound capacity scales. Unmatched quality, performance, and versatility.
Please contact us at info@competitivemailing.com or at 414-462-1140