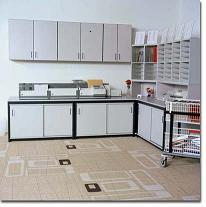 We are excited to announce the availability of our new parcel locker system! This system allows users the ability to access their packages 24/7 through the use of a secure unique code. Great for Colleges, Universities, Office Buildings, and Apartment Complexes.
Click here to view or download a FP ParcelPods brochure
More information on ParcelPods here
We also offer professional-grade furniture with modular design features. Our furniture options give you the tools for maximum flexibility and efficiency for your mail and communications operations. Our team can customize to your specifications or you may use our design service. We have many options and configurations available, with colors to complement any decor.
Click here to view or download a FP Furniture Brochure.
Please contact us at info@competitivemailing.com or at 414-462-1140