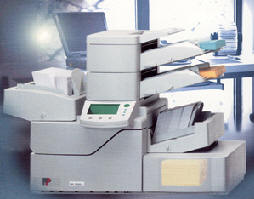 We are currently offering this machine that was used very little in our showroom ( less than 2000 cycles). It is a model that we no longer sell new, but this one is available while it lasts.
FPi 1020+ Folder Inserter
The modular system folds a variety of documents and automatically inserts them into envelopes.
Includes 2 letter sized sheet feeders and one additional feeder for smaller formats such as envelope sized brochures, flyers, reply cards, etc.
The FPi 1020+ is the perfect solution for efficiently handling small and medium volumes of mail. We would recommend this machine for those running an average of up to 300 pieces per day.
The East Start function allows untrained personnel to operate the system without problems. The system can process the documents and load the envelopes without prior programming. Also included is the capability to program up to 20 jobs for quick changing between different jobs.
The original suggested price on this model was over $8000.
Make us an offer today!!!
Free delivery and setup in the Milwaukee and Southeastern WI areas only.
Click here to view or download a FPi 1000 Series Brochure.
Please contact us at info@competitivemailing.com or at 414-462-1140